Role and Responsibility of Council
One of the most misunderstood issues that continually rears its head locally is the role and responsibility of council in and for the shire. A couple of years ago, when there was a particularly large howling about what council rates were being spent on, I wrote a short explainer piece about council structure and rates. With the very interesting elections held last year, and a significant amount of misinformation being put about by various individuals and parties, I thought to write another piece, but the timing never seemed quite right. Now that it's all settled down and our new councillors have settled in, here it is.
The Local Government System
In Australia there are three levels of government, elected by the population – local, state and federal. Responsibility for local government lies with a State or Territory Government, so local council responsibilities vary between states.
In Victoria, the Minister for Local Government is responsible for supervision of the system of local government. The position advocates for local government issues within state government as well as supporting and monitoring the system of local government. The Minister has no direct involvement with the day to day management of individual councils.
Local Government Victoria is a division of the Victorian Government's Department of Jobs, Precincts and Regions (DJPR). It's purpose is to support the Minister in administering the relevant local government legislation, and provide councils with advice about governance and other subjects. Again, the department is not directly involved in the day to days of any individual council
Council Structure
Councils are made up of two distinct parts – the elected officials (councillors) and the administrative staff – and each division has significantly different roles.
The council CEO is appointed by the councillors for no more than five years (although this can be renewed) and they are responsible for reviewing and managing the performance of the CEO. The CEO is responsible for managing the organisational structure, ensuring council decisions are implemented, managing the day-to-day operations and advising council.
The mayor is a figurehead for the council elected by their fellow councillors. In Cardinia, a mayor is elected each year. It should be noted that, being the focal point of council, the role of mayor does have significantly higher responsibility and can be considered a full time role. Attendance at events in the shire is virtually compulsory.
It is interesting to note that council now comprises more than 500 staff, making it one of the biggest (if not the biggest) employer in the Shire2. (By way of comparison, with a total budget of about $127 million and a population of slightly over 100,000 people, City of Casey has a budget of $536 million, a population of over 350, 000 people and in 2018/19 employed more than 700 staff – I'm still looking for current numbers)
The Role of Council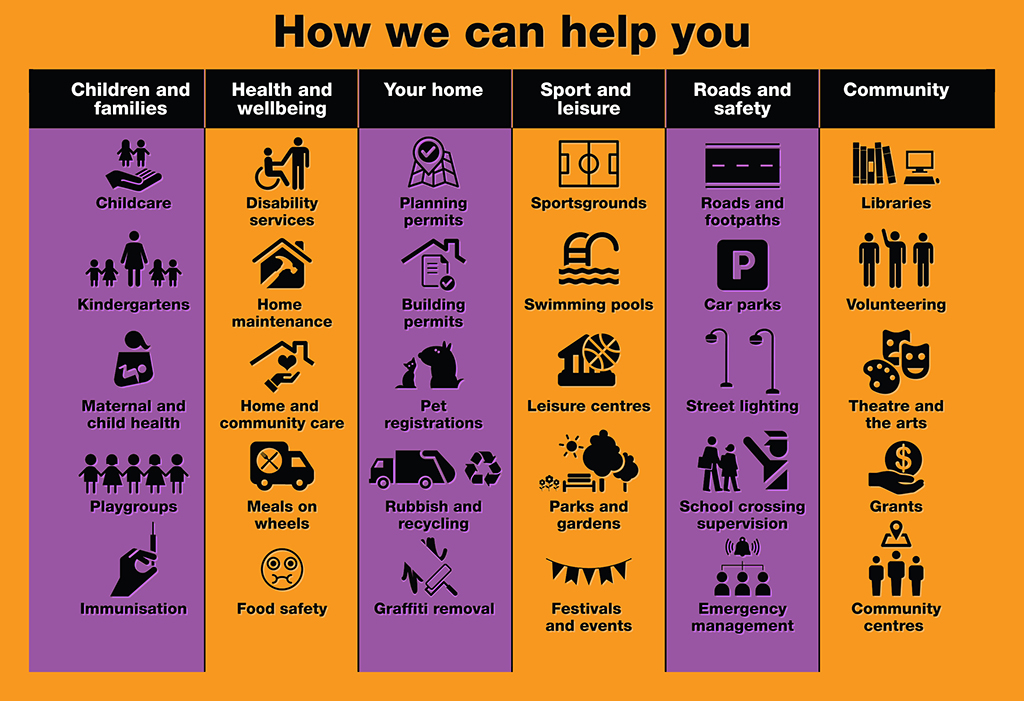 It is easy to understand why so many people don't understand the role of council, because councils in Victoria are governed by more than 100 different acts of parliament, and regulations – and that doesn't include any relevant Federal Legislation which affects them. The City of Greater Dandenong has produced an excellent overview infographic – you can view the full size version on the Vic Councils website by clicking the image on the left.
In a nutshell, Council responsibilities broadly include, but aren't limited to:
Children, Youth & Seniors
Pets & Animals
Rubbish & Recycling
Health & Wellbeing

including a community food strategy, the Cardinia Food Movement, Education and Employment

Planning & Building
Sport & Leisure

including Cardinia Life, sports grounds, pools, tennis courts, skate and bmx and more

Roads, Drains & Paths

Likely the most misunderstood part of council's responsibilities of all, given the sheer length of road in the shire, which roads fall under council and which under VicRoads, the often ongoing arguments over road issues the community deems necessary and the delay in having them attended to, or not. I've written about that before.
When it comes to development, Council have no direct say in which businesses do or do not open their doors in the Shire. Instead, they do the zoning, create and administer regulations as well as approve or deny permits pertaining to building applications. A good example of this was the development proposed for in front of Cardinia Life, which was rumoured to include K-Mart (FYI – K-Mart head office has made no statement either way on this, but they have previously stated multiple times, that they announce ahead of time where they are opening stores – ergo, it was only a rumour, and one used quite strongly for political gain). Council denied the planning permit based on multiple safety and other issues – none of which related to any of the potential businesses to open shop in the centre.
What is NOT Council's Responsibility4
Perhaps a different approach to clarifying this is what Council are not responsible for. However, my tongue seems to have become stuck in my cheek.
The decisions which individuals make of their own free will,
Holding our hands,
Keeping our businesses financially viable,
K-Mart coming to Cardinia,
The helicopters constantly flying over town,
Your neighbour's neighbour's neighbour's second cousin's wife's uncle's father-in-law's dog constantly barking (although they do have a responsibility to follow up on complaints you make about it)
The land next to council offices in Officer being released for development,
Did I mention they are not responsible for K-Mart coming to town?
Idiots setting off illegal fireworks,
The injured and lost animals caused by the idiots setting off illegal fireworks,
Our happiness, or lack thereof.
It seems the growth in population – and population density – leads more often than not to a lack of community spirit, and a tendency to point the finger and lay blame where it does not belong. There's rubbish on the side of the road? Pick it up and put it in a bin. There's a bit of grass looking untidy? Go and mow it. Or, call the council, complain, then complain about your rates going to waste as they are spent doing what you could have done. You may not be responsible for it being there in the first place, but if you can do something about it, as a member of a community that receives the benefits of being a member of the community, you should.
Have a lovely week.
1 Know Your Council
2 Cardinia Shire Council
3 Know Your Council
4 To be clear, I understand that there are many valid complaints about the actions – or lack thereof – by council officers and the council itself. I have my fair share of issues with them, too. Again, however, bitching on social media won't change anything for the better. You can lodge a formal complaint about Council here